We have a few things on our list yet to get Laney, but I'll go ahead and mention a few things that she's liked up to this point (13.5 months).
2.) Walker: Even though Laney can walk and run, she still LOVES to push this around in the backyard. Here she is with Mimi in the backyard. This also transforms into a little bike, so that's fun for her!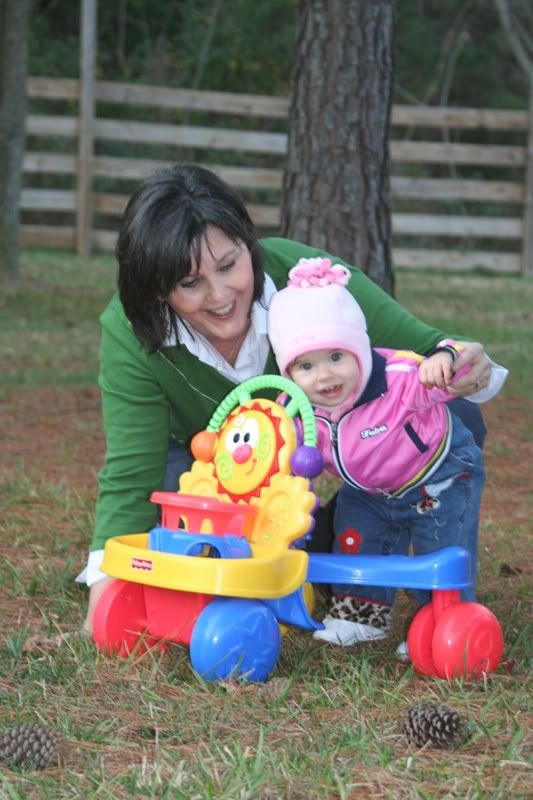 3.) Radio Flyer Wagon: Oh, I can't TELL you how much our girl loves this wagn! She especially likes to hold onto the umbrella that can be moved around to block the sun. Here she is at 8 months in her wagon at the beach and at nine months in the backyard. This is a toy that will be used for a VERY long time. It's worth buying!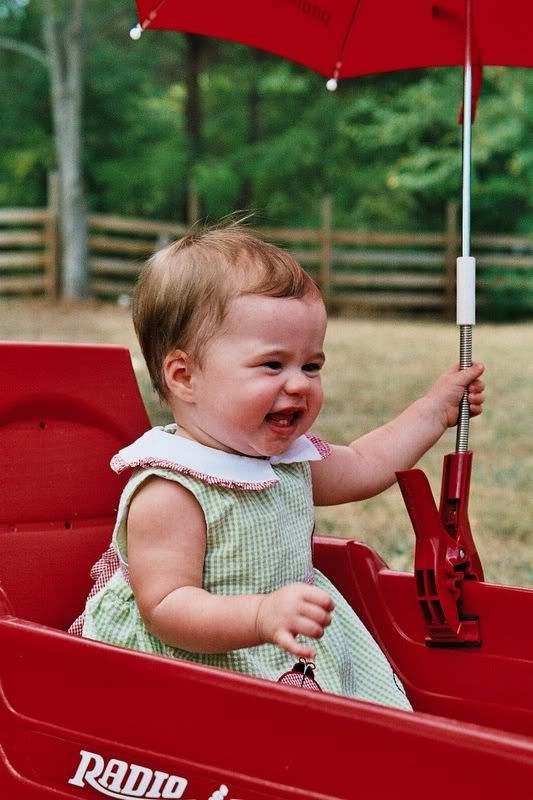 4.) Discover Sounds Boom Box: This toy rocks! Laney plays it all the time and it now sits up on the changing table with us to entertain her. She loves pushing the yellow button. It has all different types of little songs that it plays(not nursery songs). One song has "Yee Haww" yelled out and she says Yee Haw now at 13 months. I was singing along to the music one day while changing her and I exaggerated the "Yee-Haww." I sounded more like a donkey (Haha), but she copied me. I didn't believe it at first, but when I was swinging her out back I said it really loudly when I was swinging her high and she kept saying it over and over. Hilarious!
5.) Sassy Books: I feel like I've mentioned these before, but we have the one in the upper left. Laney loved(loves) to chew on the handle when she's teething, but you fill the book with pictures of friends and family that your child doesn't see from day to day. It's a great diaper bag toy to entertain in the Dr.'s office, in restaurants, or in the carseat.
6.) VTech Piano: Talk about a lifesaver, this toys is a-mazing for car rides. I try to only keep this toy in the car, so that Laney doesn't have access to it all the time, thus preserving her interest in this toy. I hardly hear a peep out of her, as she sits back there just playing like crazy. We haven't turned our carseat around to forward-facing yet(13.5 months) and will try not to as long as she doesn't blow her top. This toy is great for the car!
6.) Laugh and Learn Piggy Bank:
This is a toy we will soon be getting from Laney's left-over Christmas money(along with FridgeFarm by Leap Frog). I hear this one is fun!