I can't think of a better goal in life to have than to seize every moment you can to make a memory with your family. I always strive to keep that mindset at the forefront of my mind. That's probably why I always have some sort of camera hanging around my neck. Before I had children, I loved taking pictures of basically every moment with my Hubs, but now I am even more of a camera-holic now that I'm a mother. But picture taking is just skimming the surface of making memories. Taking pictures is a way to cherish memories, but right now I would like to focus on making the memory.
When I think of making memories, I think of all of the fun, unique and not so unique things that I do with Laney to have a great time with her. Granted she's only (almost) 14 months, so I haven't had years to build my "traditions" of making memories. I have ideas for down the road and memories to be had ready to take off in my mind once Laney gets a bit bigger. Here are some things that we've done and some things we plan to do. I hope these memory creators spur you on to create those precious moments that can only be had with you child at such a time as this.
1.) It's never too early to make memories with your children, even when your child is still in your belly. I know everyone pretty much takes a picture of yourself/belly once a month to see your growth over the nine months, but you can "dig deeper" than that with your memories of your prego belly. I especially "dug deeper" when I was at the beach. I dug a hole in the sand to accommodate my HUGE belly, so I could lay on my stomach. I can't TELL you how wonderful it was to lay on my belly after having not for such a long time. Definitely a fun memory with Laney!
2.) One of my most favorite memories involving Laney while in my belly was our "Guess the Gender" Party. On that Friday, we had our 20 week ultra-sound where we could find out the sex of our baby. At a certain point during the appointment, we turned our heads and had the technician get a really good look at the gender of our baby. We brought a card with us that had "It's a boy" " It's a girl" with boxes under both phrases so as to check one. We had our Guess the Gender party the next day, where everyone had to pin a blue or pink square to their shirt, signifying what gender for which they were voting. We grilled out burgers and hot dogs and had a blow up pool out back for the little kids that came. So Hugh and I could find out the gender at the exact, same time, we had a friend open up the card and tell us what we were having in front of everyone, so we could celebrate. The moment was one I will never forget. Talk about being nervous. You could have heard a pin drop in that place filled with TONS of family and friends. Here's the moment we found out we were having a girl. (Notice what color of paper Hugh and I had pinned to our shirts.)
3.) Take funny pictures of yourself in those AWFUL, forbidden maternity clothes, you know the ones that come up WAAAY high over your belly. :) Just think, you're only blessed to wear them a few seasons in your life.
4.) Of course, you have to take pics every month to see your growth(and your weight gain! Hee!)
5.) Last February I made a heart out of play dough and made an impression of Laney's hand to give to Daddy for Valentines Day from Laney. Laney was two months old at the time. I wrote the year on the front, a Valentine's message on the back, and then let it harden. I plan to do it again this year, so I can see the changes in her hand.

6.)Since all of our family lives out of state, I try to do things that connect them to Laney to help cherish these younger years in Laney's life. I like to use this little chalkboard that we have and write messages on it for them from Laney. I usually do it right before a visit from family, to get them even more excited to come up. I've used gift bags with messages written on index cards taped to the bag. Here are a few pics. These pictures make their entire week!!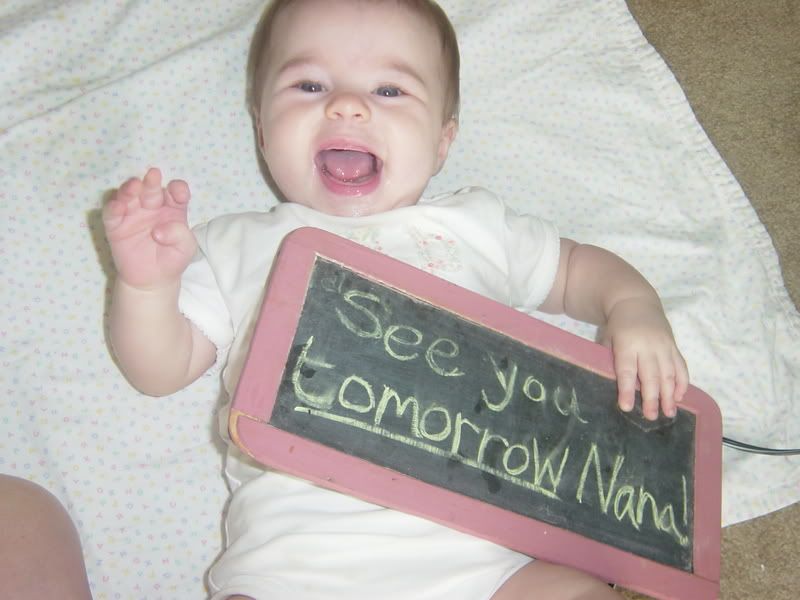 7.) Laney LOVES to play in the mirror. I like to sing a little cheer when we look in the mirror and play: Who's that pretty baby? It's Laney! It's Laney!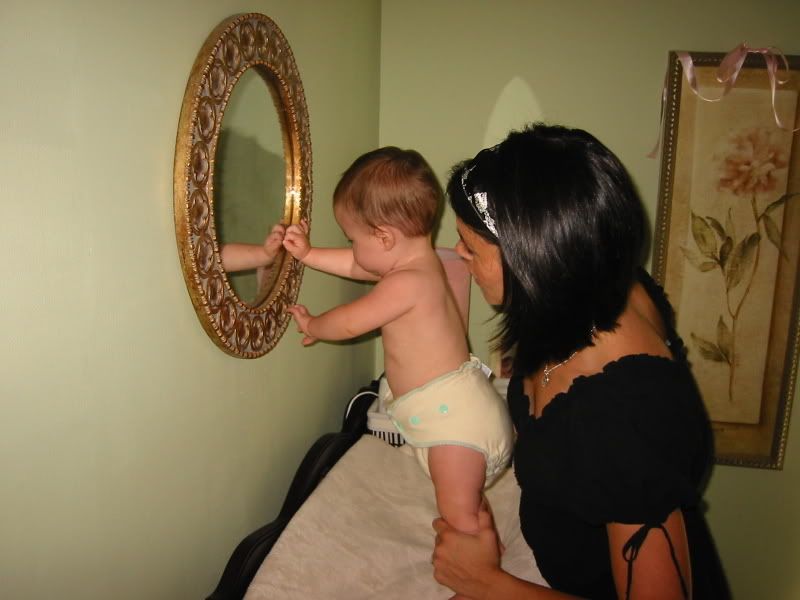 8.) Take trips to your local pumpkin farm every Fall.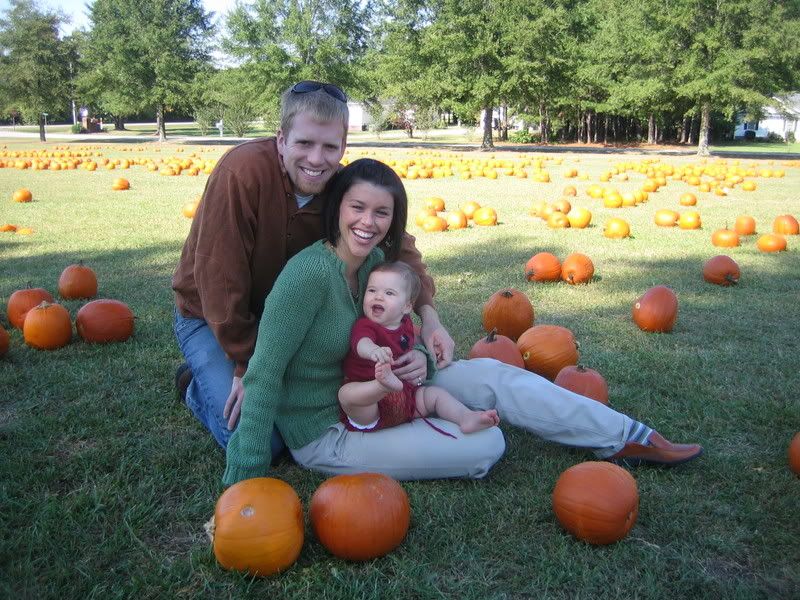 10.) Since my Dad has been in Iraq for the majority of Laney's life, he doesn't know or realize how big Laney is right now. So, I'm making him a HUGE card made of fabric (b/c it's foldable and easy to mail) and when he opens the card, there's a silohuette of Laney from head to toe in contrasting fabric with her arms open as if she's ready to hug him. You can add dresses, buttons and even a face if you have a big enough picture. I'm in the middle of making it now. Shhh!
Fun activities:
11.) Laney loves it when I lay her down on a blanket and pull her around the house on it. She cracks up! You don't have to have hardwood flooring to do this. However, you can go faster and it's easier to pull them with hardwood flooring.


12.) Gardening: You and your child should make a little garden from seeds out of old yogurt containers. Water them daily and let your child have their own watering can, shovel, gloves, etc.. Take advantage of that time to talk about the Lord and the parallel that God "plants seeds" in our hearts, He waters them, and we get to see the fruit in our lives. Of course, you'll need to be more specific and "water" the stories down to their particular level. From The Sunny Day Book

13.) Tie-dye t-shirts together!

14.) Make Grass People: Cut out a 12" to 30" strip from a pair of pantyhose. Place a handful of grass seed inside. Fill the rest of it with sawdust and toe a knot at the top. Pinch out a nose and tie it with an 8" length of string. Soak it in a bowl of water until it is thoroughly wet. Once you have prepared your head, put it upright in a dish. Make sure the nose is in the right place- remember grass always grows upward. Sprinkle it with water every day, and when the hair has gone wild, give it a haircut. You can stick on paper eyes and glasses made out of pipe cleaners. From The Sunny Day Book


15.) Make your own bubble mixture. Bend wire or old coat hangers into shapes to make your own bubble blowers. Use a metal spoon from the kitchen that has holes in it. For your bubble recipe, use 1 large cup of dishwashing liquid, then mix in two large pitchers of water. From The Sunny Day Book


16.) In springtime, buy some sunflower seeds or collect them from a friends flower. Use clear egg cartons to sow your seeds. These make great mini green houses. Fill your cup with compost. Push one seed into each cup so that it's covered by the soil. Water the soil and cover with another clear egg carton. Place planted seeds in a light place and keep moist. Shoots will appear after about a week. When two leaves have appeared, you will have to move the plant to a pot. Fill a large pot with compost. Pop in your seedling and water it. Let the seedling grow, keep it watered, fed an in good light. When the sunflower gets very tall, stick a long cane into the pot and tie the stem to it with 8" lengths of yarn to keep it upright. Once the plant begins to fade, stop watering it. Collect the seeds when the flower head has completely dried out. Paint some stones/pebbles and use them as markers in your flower pot. These make great pictures!!From The Sunny Day Book
17.) Last but not least, make a kitchen for your children out of cardboard and contact paper. I plan to make one of these. The best part of it all, is that it's foldable and stores easily, unlike most bulky toys. I plan to make one of these soon. I'll have to post about it. Cardboard Kitchen