You just zipped up your last bag, you finally ditched the sexy hospital gown that you've been plagued with for days, and your hubby just walked in the room telling you that you've gotten the green light to take your precious, little bundle home with you.
GULP.
By ourselves? Reality just hit you in the face. No nurses? No doctors? Just….us? And….little one? You mean, I'm
TOTALLY RESPONSIBLE
for this little life now
all by myself
?
If your experience going home from the hospital was anything like mine, I wasn't ready to take Laney home with us. Most of my stress and fears were derived from the stiff recovery of a c-section and having breastfeeding difficulties. I loved the comfort of having the doctors check up on me and my surgical wounds, the lactation consultants and their advice(even though one nurse contradicted the other), and the staff meticulously watching Laney's continuous weight loss. I wasn't ready to bear that burden yet, but ready or not….it was time to cut off the hospital bracelet, waddle to the car, and buckle my sweet babe in the car seat for the first time. What an exciting, yet scary moment.
Now that you're mind is somewhat in the newborn mode, let's talk about what it's like to be home with a newborn. So, what's the deal with all of these newborn toys and products? Are they necessary? I've pondered renaming this post to Favorite Newby Mom Products instead of Favorite Newborn Products, because they are indeed Mom's toys to help make life so much easier upon arriving home from the hospital. And yes…some are necessary.
Being a new mom, I didn't know what to buy and what not to buy. Hind-sight is definitely 20/20. How do you choose between 18 pacifiers, 53 diaper bags, 27 sippy cups, 94 car seats and strollers?? Maybe I can spare you a few bucks by guiding you into what you should consider buying. I am going to steer clear of the "duh" products, like a car seat, a monitor, and a swing, for we all pretty much know about these staple products.
__________________________________________________
Disclaimer: This is an unusually long post, and all of our posts aren't going to be this long, I promise. The very nature of this topic demands a lot of explanation, so I apologize for such a long post. It's an easy read and if you don't have time to read, at least browse the pictures. :) Please note, the following list is all a matter of personal preference. .
__________________________________________________
1. Pack'n Play
: I love ours and will continue to use it in the next few years. You can set it up in your room, in their room, at your parent's house, on the beach, in the park, camping, and the list goes on and on. You can help balance out the unbelievable spending in the beginning by avoiding a crib purchase and using the pack'n play as a crib until you have saved up enough money. Almost all Pack'n plays now have bassinets in them, so no need to invest in a bassinet. Your baby is going to overtake the house within this next year with toys, clothes, bottles, high chairs..etc…so my advice would be to keep big furniture pieces at a minimum. This is a mighty fine, versatile piece. Accessories: Sheets and Waterproof mat (self-explanatory)
I'd also like to throw in the
amazing
Amby Baby bed, used for infant colic, infant reflux, premature babies, restless sleepers, and short nappers. It creates a womb-like environment, as it's cozy, suspended from a spring, causing a slight bouncing with every moment, thus lulling them back to sleep. I will feature this bed as one of my posts for it's a FEMONMENAL PRODUCT. I don't have the time or space to truly elaborate on it in this post. Check it out:
http://www.ambybabybed.com/
2.
Sleep Wedge:
Gotta love this little wedge-a-roonie. I was so happy we purchased this. Basically, it's a little wedge that your baby sleeps on that will help him or her breathe better, avoid gurgling and choking on spit-up, and keep fluid out of their ears if they have allergies or get sick(thus avoiding ear infections). It's made of the supe-comf memory foam that's so popular nowadays. That's a great feature, because it cradles their little head keeping it from becoming flat. It also has adjustable roll blockers that velcro to the removable cover(that can easily be washed.) This particular wedge is $22 at babiesrus. Not too shabby!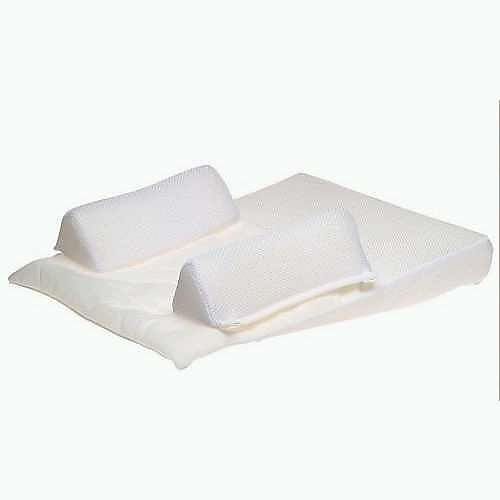 3.Swaddle blanket: Sure, you can learn how to swaddle with a blanket, but if you can't quite master the swaddle, never fear! There are some really cool swaddle blankets out there. Kiddopotamus was my favorite brand, and the Boppy brand second. Just don't put your baby in a heavy fleece sleeper AND a fleece swaddler.

4. Nursing Tank: Mamas, you've GOT to have at least one of these. Super super super buy! It's so convenient. Leah, one of the five authors of this blog, gave me this tank, and I can't thank her enough for it. The best part about the tank was that at 2 am, I didn't have to take my clothes off and freeze my little buns off while breastfeeding. I remember being so cold and not even wanting to get out of my warm, little nest in bed. I just kept the tank on under my flannels. Great layered look in the summer too, and nobody will ever know it's a nurser tank.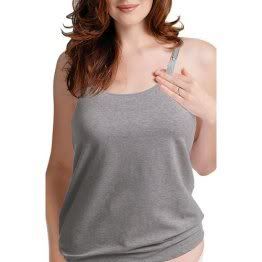 5. Bouncer: When you need to take a shower, cook dinner, use the bathroom, clip coupons, fold clothes, clean house…whatever, the best and most convenient place for "little bunz" is in the bouncer. You can't beat the convenience of this little bouncer. I'd put Laney in it and bring her into the bathroom when I showered or in the kitchen when I was cooking. I'd sit her on the table when she was really, really small when I was eating(otherwise my dog would lick her in the face). Be sure to get one with a reachable mobile. Some have mobiles that are out of arm's reach. We had the best time watching Laney entertain herself and reach milestones by how she responded to the mobile (reaching, touching them, hitting them, talking to them..etc..) My only complaint was that our particular bouncer (below) had legs that poked out the front really far and we ALWAYS ALWAYS ALAWYS tripped on those frustrating things. Argh! We just knew we'd land up on the floor one day. So, pay attention to the base of your bouncer.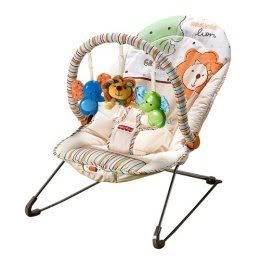 6. Baby Carrier: This could encompass a stroller, a sling, or any kind of baby carrier for that matter. You just need something to hold your little one. I'd recommend a carrier that straps to your body, so your little one feels the comfort of Mom, smells Mom's wonderful smell, hears Mom's heartbeat, and begins to feel more and more secure the more you wear him/her. Let me just highlight a wonderful carrier: The Ergo Baby Carrier. Wow. Amazing. I have other baby carriers that work great too, but I wanted to find one that could do all. I had way too many baby items as it was, so I wanted one standard carrier that was the SUPER carrier of all. My friends, this one is it. It distributes all of the weight of the baby to your hips, which can hold a ton of weight mind you. It also has a baby insert accessory for babies 0-3 or 4 months, before they can actually hold their head up. You can lay your baby in your Ergo like you would lay him in a sling, thus making the best position to nurse while you get chores done. And it's supe-comf! However, the perfect carrier is the carrier YOU relate to best and like the most.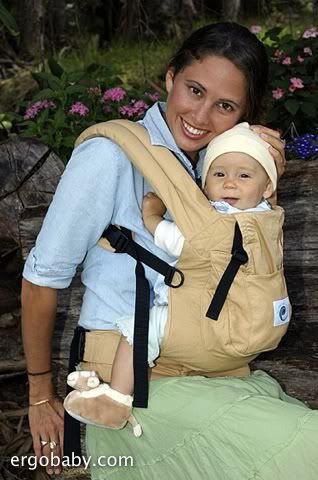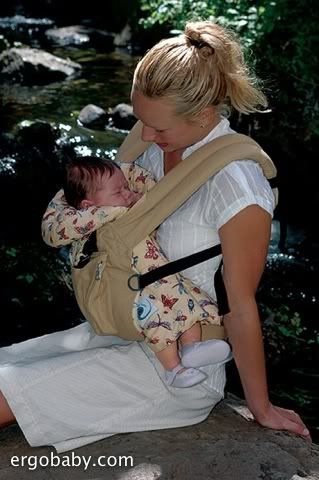 7· Nursing Cover: I wish I had bought this prior to Laney's birth, for I could have used this cover so much in the hospital when we had company. I used a blanket, but still you're paranoid if there's a little peep hole or something. Ha! Plus, if you're pumping with people in the room or in the car, you don't have your hands free the whole time, so you want something that has a neck strap. These would be easy to make if you sew, but if you don't, I bought a great one on babycenter.com website made by Bebe au Lait.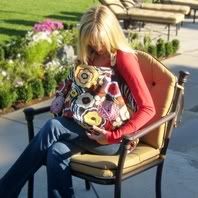 7. Car Seat Mobile or Toy: This will save your sanity as you're driving down the road with a screaming child. I cannot TELL you how much Laney LOVED these. They don't look like much, but TRUST ME, they are awesome. Laney didn't have a mobile in her crib, so she was glued to the mobile on the bouncer and on her car seat. She's 9.5 months now and she still likes them. She just likes to chew them now. They are $8.99 at Target. I was given the Sassy brand of neon bugs. Awesome, useful and affordable gift or purchase.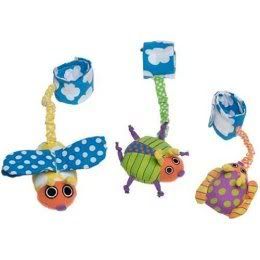 8. Kiddopotamus Carseat insert: I loved this too. I bought it a little late in the game, but Laney loved it. It can be a little bit warm in the summer months though. I'd get the neck-rolls next time too. Nothing bothered me more than going somewhere by myself and worrying about Laney's head falling forward, with me having to drive with one arm on the wheel and the other arm in the back holding her head up. I used burp cloths rolled up, but it didn't cradle her head and it always fell from its place every time I took Laney out. It worked about 50% of the time.

9. Land's End Blanket: If you have a Winter Baby, you'll love this. We loved this blanket because it clung to the car seat, so we'd drape it over Laney's car seat to keep gusty winds off of her and take her out on errands in the cold. The best feature about the blanket was that it was breathable, having small holes in it, allowing some air to get to Laney. Then when we'd get inside, we'd cover her up with it. I loved the fact that I was killing two birds with one stone, as us southerners like to say. I could have bought one of the car seat covers that zip up, but then I'd have to keep up with it, the bulk of it, and then store it. Most blankets won't cling to car seats, but this one did. Plus, it was snuggly, super warm, breathable, and it had Laney's name monogrammed in it. http://www.landsend.com/pp/BunniesLaceBlanket-76262_19107_-1.html?CM_MERCH=ALT_76262

10. My last recommendation—I could go on and on as you well know. This last one is really important. Before I had Laney and even right after I had Laney, I didn't even know how a breast pump worked, so this is not a "duh" product in my opinion. The thing scared me just by looking at it with all of its tubes and shields and knowing where it was going to be placed. Yikes! But you MUST get a GOOD breast pump if you plan to breastfeed your baby even for a few months. Of all of the things I've recommended on here to you, this is numero uno. The nourishment your baby will receive from drinking Mommy's milk is unfathomable. Your baby's health is and should be always of utmost importance. Speaking from personal experience, I am still pumping for my 9.5 month old FULL-TIME, and I thank the Lord for the ability to see my baby grow off of Mommy's milk. It has been the biggest blessing and such a bonding experience. Long story short, we had the worst-case scenario concerning our nursing experience, but I wasn't going to give up on feeding Laney breast milk. Once Laney wouldn't latch on anymore, I went to pumping full time. It's twice the work, unbelievably difficult & exhausting and it gets old after a while, but I just cpuldn't deny the milk that God has enabled me to give to my girl. I could only have done this with a great, quality pump. Which pump? I'd recommend Medela Pump In Style Regular or Advanced (or anything better).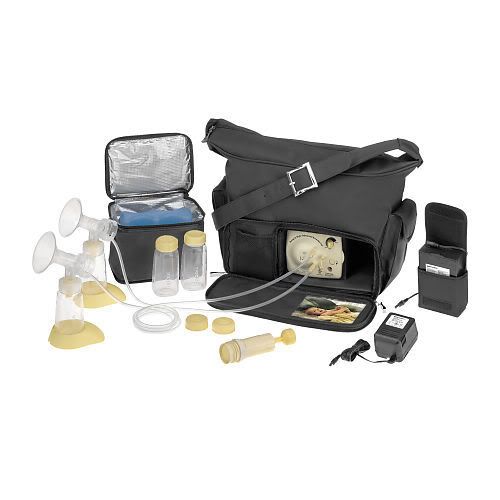 I hope I have been of some help to you, especially to the Parents to-be one day, to the Grandparents who aren't well versed in the latest products, to those wanting to give great gifts and especially those that are expecting. Many blessings to you, thanks for stopping by and making through the longest post known to mankind, and we hope to see you again soon. Drop by this week to get an eye-full of more commentary on Newborn products from the other five authors of Prayer of Hannah. May God be glorified through and in us!